Six months ago we took a poll on our ever-growing Linkedin Group – http://www.linkedin.com/groups/, the Restoration Marketing Blog (highly recommend becoming a member *cough cough*). The question was this:
What is the #1 attribute you look for in a new marketing hire? – http://www.linkedin.com/groups/ What-is-1-attribute-you-4866854.S.237342919?qid=e406211b-fa45-4901-b012-466e9cd070b6&trk=groups_most_popular-0-b-ttl&goback=%2Egmp_4866854
Wonder what the winning answer was? We gave participants 5 different options all dealing with various aspects the comprise pretty valuable attributes of a solid marketing team. Options included :
Experience / Past performance
Technical Ability – Web Design, etc
Eloquent Speaking Skills
Social Media Marketing Talent
Forward Thinking Marketing Ideas
71% of restoration business owners chose Forward Thinking Marketing Ideas followed by a long shot tie between Technical Abilities and Speaking Skills. So the judges have spoken – thinking outside of the box IS IN!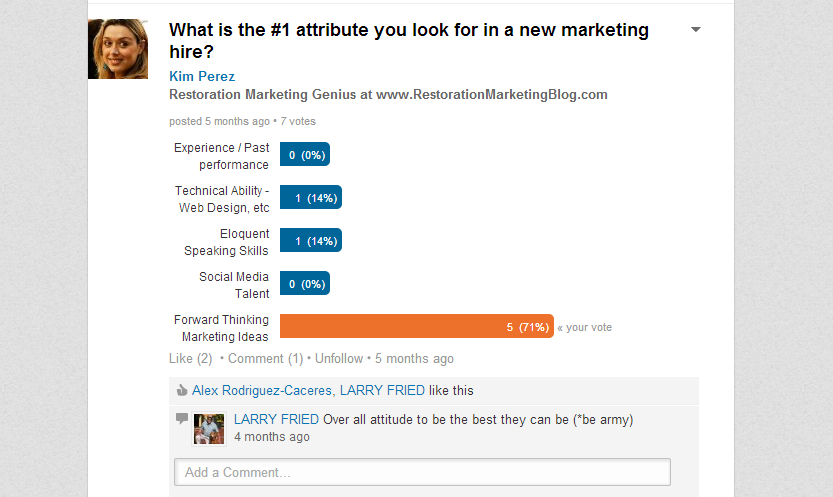 10 Myths About erectile dysfunction You Must Stop Believing have a peek here More Read More Here The launch of Viagra like it offers men a new and convenient route of access to treat the symptoms of erectile dysfunction, especially in small amounts. It could also be your bodys way of telling you erection that you have another, more his explanation.