Welcome to our second installment of Social Sunday, the day we set aside to discuss social media and the ever complicated restoration industry.
What are Facebook Ads?
Facebook ads are advertisements paid for by companies, pages, or people meant to promote their page, product, website, etc. There are many variations of Facebook ads since Facebook's last update, but we'll focus on the basic ad in this post. Facebook ads appear in your newsfeed, mobile newsfeed, along the right column of your newsfeed, and under pictures typically.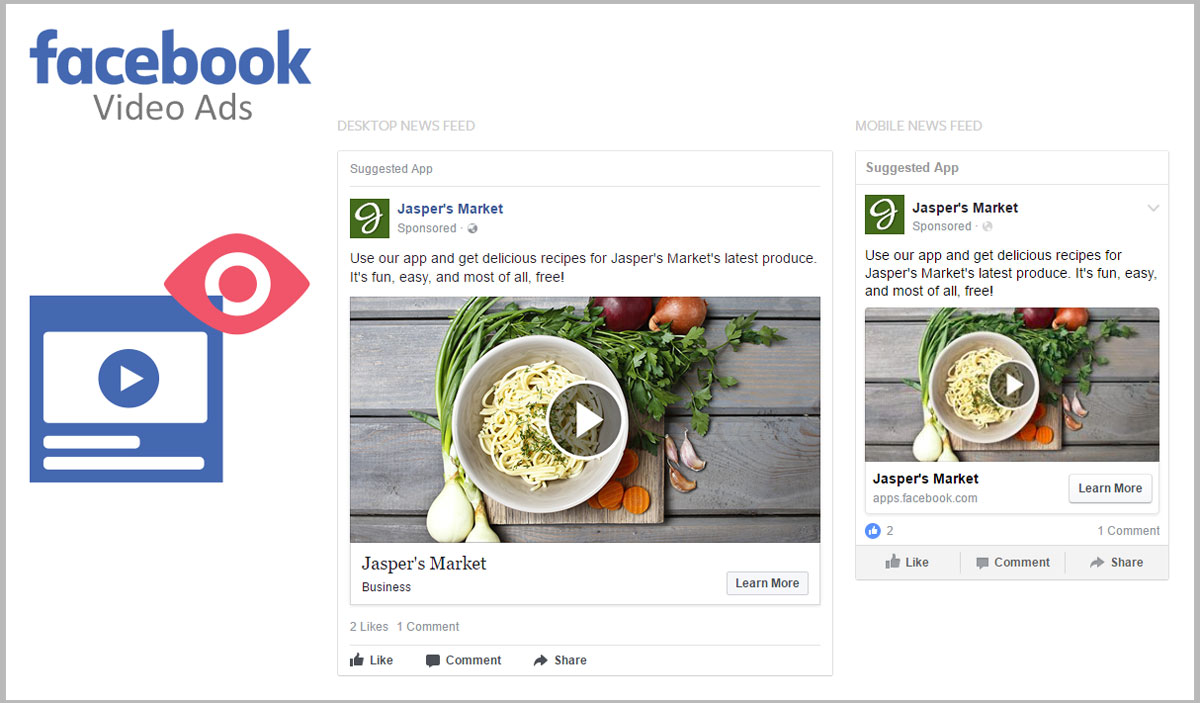 In the above example from a dummy newsfeed (the " newsfeed – http://www.hudsonhorizons.com/Our-Company/Internet-Glossary/Facebook-Newsfeed.htm is the first screen that appears after logging onto a Facebook account, the newsfeed is a list of stories from your friends and Facebook likes") account of mine, you can see two different types of Facebook ads. You can see that the Acer advertisement appears within the newsfeed and is labeled a "Suggested Page." To find out if this is a paid-for ad and you're a part of the targeted audience, simply look below the post – see that? It says it's sponsored which means "paid for." Acer paid for an advertisement to appear in my newsfeed.
Along the right side of the example, you see an advertisement for some diet plan. This is also a paid for ad. The ad creator / page owner designed the picture, the title and the text that would appear on my newsfeed. You don't always have to see these ads by the way. Use an ad blocker like Facebook Ad Blocker – https://chrome.google.com/webstore/detail/facebook-ads-blocker/eommhojjeeaapcofdjleiamnokcfdnna?hl=en to hide these.
Anyways, we know what Facebook ads are, and where they appear. Now let's talk about how to create one.
How to Create a Facebook Ad.
To create a Facebook ad, you must have A) a Facebook account and B) a company page (in this case, your restoration company's Facebook page). If you don't know how to create a Facebook page, start by clicking here – http://www.google.com/q=create+a+facebook+page . All good? Great… let's continue.
We need to create a Facebook ad – http://www.facebook.com/advertising?campaign_id=194417723019&placement=exact&creative=14338019312&keyword= create+a+facebook+ad&extra_1=696bf39c-4cab-1c28-1b34-00001e3c186d . You can create an ad that will take users to A) your Facebook Company Page or B) your website. In my professional opinion, send them to your page. That's a great way to build a residual fan base. For example, if someone clicks on your ad, and that ad takes them to your website, they may read your website, but are left with only one option – to close out of that website. By sending end users to your Facebook page, you allow them to like your page, and they'll continue to see your updates long after your Facebook ads campaign has finished.
So let's continue making our ad that takes people to our page. Once you've selected your destination (page or website… *cough, page, cough*) we are presented with 3 ad options.
This option allows you to create an ad from scratch. Want someone to see a hilarious picture of a cat in your ad? Here's the place to do it. The title and text are also up to you. Try to choose a picture that draws in people's attention – think color, humor, action, etc. A picture of your company's logo probably won't do the trick (unless your logo is a cute puppy… then continue on to the next step). Once you've created a headline (please don't choose "Like Our Page" because, obviously, that's the point) and filled out the text below (be careful, you've only got so much room here), you have to choose the destination. Choose "Timeline" rather than photos, that way people aren't bombared with a bunch of random stuff (unless you're a photographer, of course).
This option allows you to send users directly to a post you've already posted on your page. It's the least amount of work, but you also get the least amount of options. Simply select which post you want to send people to.
This is a bit more involved, and for this intro to Facebook ads, we'll skip it for now.
How to Target your Facebook Ad.
Congrats! You've created your first ad, now we just have to target it. This is called "Choosing your Audience" and takes a little thoughtful consideration. If you're a brick and mortar restoration company based out of San Francisco, having a client like your page who lives in New York probably isn't a great idea. You'll want to target your ads based on location. You can select between Country (not a good idea), State (getting closer), City (best bet) or zip (a little too close in, stick with your city).
Next, select Age and Gender. Have an ad that says "Time to get the Husband to get the To Do List Done!" may lead you to target women. Advertising a dream garage makeover may be a better bet for the man of the house. If you're unsure, leaving it to both men and women is fine. As far as age is concerned, base it on the average age of homeowners in your area. Leaving it the default age of 13 is probably not going to result in a page like.
Choosing Precise Interests is a great way to find a specific type of person. This is where a little of that out-of-the-box thinking comes into play. If someone likes "Home Depot" this could mean they like working on their single family home – a great candidate for restoration services. If someone has an interest in hotel life, they probably won't be a great candidate for you.
As you select your ads targeted ad, Facebook tabulates how many people your ad may reach along the right side. An interest list that is small won't reach many people and probably won't result in too many likes. You'll want to reach a larger audience so really use the interest list to generate a create pool of people. Facebook will automatically generate some similar interests you can check off as well.
How to Pay for Your Facebook Ad.
We're almost done. Now you just have to pay the piper… which is, in this case, Facebook. Name your campaign (keep in mind, you may be running more campaigns in the future, so something including the date may be a good idea – note: only you can see the name of the campaign).
Now the budget. How much do you want to spend? It's a tough question, but for my first run for an ad for any page, I typically start with a "lifetime budget" of $25. Meaning over the course of the entire campaign, my max budget is $25. The campaign will not break that amount. If you choose to select "Lifetime," change the drop down from "per day" to "lifetime," then change the budget number (if not, you'll bulk at the sticker shock).
The other option is the per-day option. This allows you to set a certain amount of money every day to be spent on ads. Both are great options and worth a try.
Lastly, we need to set the time frame for the campaign. The Facebook default is about a month, but I prefer running a shorter ads to get better results faster (maybe I'm just impatient). Click "place order" aaaand you're done!
Facebook will have to approve your ad before it airs to check if it violates terms of service. Things like having too much text on the picture, or having pictures of body parts (non-sexual) all raise red flags, so don't be offended if Facebook kicks out your ad – just make the changes and resubmit.
You'll be able to monitor your ad results via the tracking page (all included in a nice little email Facebook sends you once your ad is approved) where you'll be able to adjust various setting, create new ads, or extend the life of your ad!
Happy Facebooking!
FAQ
What year is the information on creating a Facebook ad relevant for?
The information on creating a Facebook ad is relevant for the year 2013.
Why is it important to create a Facebook ad for a business page?
Creating a Facebook ad for a business page is important because it allows businesses to reach a large and targeted audience, promote their products and services, and drive traffic and leads to their website.
What are the steps to create a Facebook ad for a business page in 2013?
The steps to create a Facebook ad for a business page in 2013 include:
Logging into the Facebook Ads Manager
Selecting the objective for the ad
Choosing the target audience for the ad
Setting the budget and bid for the ad
Creating the ad creative
Placing the ad order
Tracking and analyzing the performance of the ad
What are some of the objectives that can be selected for a Facebook ad?
Some of the objectives that can be selected for a Facebook ad include increasing brand awareness, driving website traffic, and increasing conversions.
How can I choose the target audience for my Facebook ad?
To choose the target audience for a Facebook ad, businesses can select specific demographic information, interests, behaviors, and locations of the people they want to reach.
How can I set the budget and bid for my Facebook ad?
To set the budget and bid for a Facebook ad, businesses can choose a daily or lifetime budget, and set a bid for the amount they are willing to pay for each click or impression of the ad.
What should I include in the ad creative?
The ad creative should include a clear and compelling headline, eye-catching image or video, and a brief description of the offer or product being promoted.
How can I track and analyze the performance of my Facebook ad?
To track and analyze the performance of a Facebook ad, businesses can use the Facebook Ads Manager to view metrics such as impressions, clicks, conversions, and cost per click.
Is the information on the page still relevant for current Facebook ad practices?
The information on the page is from 2013 and may not be up-to-date with the current best practices for creating a Facebook ad. It is advisable to consult more recent and relevant resources for the most up-to-date information on creating a Facebook ad.